In its April Market Monitor report, the Agricultural Market Information System (AMIS) indicated that, "Over the past 10 months, world prices of most grains and oilseeds have fallen back to levels prior to the war in Ukraine. Likewise, volatility in prices has also declined considerably from recent highs. With the extension of the Black Sea Grain Initiative, there is hope that the world is recovering from the price shocks of the past year.
"Yet, while prices have fallen in international markets, they have frequently remained high at local level, particularly in net food importing developing countries reflecting the weakening of their currencies against the US dollar. As a result, food price inflation is still a serious concern in many countries, also because post-farm gate costs for shipping and processing remain subject to inflationary pressures."
More narrowly with respect to the Black Sea Grain Initiative, the Market Monitor indicated that, "Since being established in July 2022, the Black Sea Grain Initiative has been instrumental in moderating world agricultural commodity and fertilizer prices from the record highs that were reached following the outbreak of the war in Ukraine. The initiative has furthermore been a lifeline for Ukrainian farmers and consumers dependent on Ukraine's agricultural exports. The renewal of the grain deal on 18 March was thus welcome news for agricultural markets. However, much remains to be done to restore the proper functioning of markets to pre-war conditions."
AMIS noted that, "The grain deal is needed for both the Russian Federation and Ukraine, but also for the rest of the world. The stakes and challenges beyond May are significant, and the nodal issues that need to be addressed include the limitations of the existing deal caused by inspection quandaries and the high cost of insurance. In addition, trade flows not covered by the grain deal also need to be recognized as a key challenge."
Meanwhile, Yuka Hayashi and Jason Douglas reported in today's Wall Street Journal that, "Inflation is a big culprit of sluggish trade growth, WTO economists say. While food and energy prices have declined from their sharply elevated levels following Russia's invasion of Ukraine in early 2022, they remain higher than before the war, eroding people's income and demand for imported goods."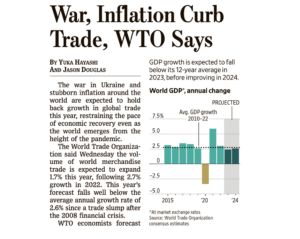 The Journal article pointed out that, "The Geneva-based multilateral organization expects global trade growth to pick up speed in 2024 to 3.2%, but warns of substantial risks, including flare-ups in geopolitical tensions and food insecurity."
Today's article noted that, "Net food importers were able to substitute across products and suppliers to meet basic needs. Ethiopia, for example, bought wheat from the U.S. and Argentina to make up for sharp drops in imports from Russia and Ukraine."
More specifically on U.S. trade issues, Reuters writer David Lawder reported yesterday that, "U.S. Trade Representative Katherine Tai on Wednesday defended the Biden administration's decision not to pursue traditional free trade deals and argued her approach of working to ease non-tariff barriers is better for workers, supply chains and the U.S. ability to compete with China.
"In a policy speech at American University's Washington College of Law, Tai said she is starting to change minds in Washington and in other capitals that the traditional approach of cutting tariffs no longer works in the highly competitive global economy of the 21st century."
Elsewhere, Reuters writer Pavel Polityuk reported yesterday that, "Ukraine's grain exports for the 2022/23 season were at 38.5 million tonnes as of April 5, the agriculture ministry data showed on Wednesday.
"The ministry gave no comparative data for the same date a year ago but said Ukraine had exported 45.1 million tonnes of grain as of April 8, 2022."
And Dow Jones writer Kirk Maltais reported yesterday that, "Wheat for May delivery fell 1.4%, to $6.80 1/4 a bushel, on the Chicago Board of Trade on Wednesday, with weather forecasts for next week in the Midwest showing improved planting conditions, while U.S. wheat exports stay uncompetitive versus other global offerings."
Also yesterday, Reuters writer Olena Harmasha reported that, "Ukrainian President Volodymyr Zelenskiy said on Wednesday he expected decisions to be announced in the coming days and weeks to alleviate anger among Polish farmers linked to Ukrainian grain imports."
"'We have found a way out, I believe that in the coming days and weeks we will finally resolve all issues as there cannot be any questions, any complications between such close partners and real friends as Poland and Ukraine,' he said."
The article noted that, "Polish Agriculture Minister Henryk Kowalczyk resigned earlier on Wednesday amid rising anger among farmers over the impact of Ukrainian grain imports on prices."
And today, Reuters writers Naveen Thukral and Enrico Dela Cruz reported that, "Chicago corn futures lost more ground on Thursday, amid improved weather outlook for planting season in the United States, and with traders adjusting positions ahead of the Easter holiday weekend."