Keith Schneider reported in today's New York Times that, "Despite federal and state programs to convert corn into ethanol and soybeans into biodiesel to fuel cars and trucks, the United States has never before regarded farming as a primary energy producer.
"That changed when Congress in August passed the climate provisions of the Inflation Reduction Act, which provides $140 billion in tax incentives, loans and grants to replace fossil fuels with cleaner renewable energy that lowers emissions of carbon dioxide." Owners of farms and other businesses are encouraged to invest in CO2 capture technology and other initiatives to help lessen their carbon emissions.
"Along with the wind and the sun, the raw materials needed for a significant portion of that energy come from agriculture — alcohol from fermenting corn, and methane from the billions of gallons of liquid and millions of tons of solid manure produced by big dairy, swine and poultry operations.
Despite pushback from environmental groups concerned about increased pollution from farm waste, developers across the country see opportunities to build ambitious renewable energy projects to convert crops and agricultural wastes to low-carbon energy.
Schneider explained that, "The emphasis on energy production is a big shift in American farm policy that started in the early 1970s when Earl Butz, the secretary of agriculture during the Nixon administration, encouraged farmers to plant 'fence row to fence row.'"
"The government's plan to turn agricultural products into energy is intended to increase economic output, said John E. Ikerd, professor emeritus of agricultural economics at the University of Missouri."
Today's article noted that, "One of the newest projects is on a 245-acre field just outside tiny Lake Preston, S.D. Last September, Gevo, a Colorado developer, broke ground for Net-Zero 1, an $875 million refinery to turn corn into low-carbon jet fuel.
"Gevo says its 'farm-to-flight' project will release 80 percent less carbon dioxide to the atmosphere than ethanol made by a conventional plant. A wind farm will power the plant, which will turn 35 million bushels of corn from about 100 South Dakota growers into 65 million gallons of jet fuel a year."
"None of it would be possible without government support," the article said.  Adding that: "Virtually every phase of Net-Zero 1 production, and a good portion of its revenue, benefits from tax incentives, grants and direct payments for low-carbon renewable energy and the nearly $20 billion that Congress has approved since 2021 for the disposal of carbon dioxide. When the plant begins production in 2025, it will qualify for a clean fuel tax credit of $1.75 a gallon, plus an $85 tax credit for every ton of carbon dioxide it disposes of in deep subsurface caverns.
"That's not all. Congress also directed $40 billion to the Department of Energy for loan guarantees to finance innovative carbon-reducing projects. Gevo expects the department to approve a $620 million loan guarantee to pay for 70 percent of the Net-Zero 1 construction costs."
The Times article also pointed out that, "Thousands of large livestock operations are also poised to take advantage of the tax benefits and subsidies. The American Biogas Council, an industry trade group, counts 2,300 biodigesters in operation in the United States that convert organic wastes to methane to burn in power plants or be used as transportation fuel. With tax credits in the new climate law, the council envisions the installation of 15,000 more, including 8,600 on large dairy, hog and poultry farms."
In other news, Reuters writers Alan Charlish and Pawel Florkiewicz reported today that, "Polish Agriculture Minister Henryk Kowalczyk resigned from his post on Wednesday amid rising anger among farmers over the impact of Ukrainian grain imports on prices.
"Kowalczyk said he decided to quit the position due to the European Commission's decision to extend duty free imports for Ukrainain grain until June 2024. Polish farmers had called for the introduction of tariffs."
Elsewhere, Reuters writer Enrico Dela Cruz reported today that, "The U.S. Department of Agriculture (USDA) in its first weekly crop progress report of the 2023 growing season rated 28% of U.S. winter wheat in 'good-to-excellent' condition, the lowest score for the time of year in records dating to 1989.
"However, traders said improving weather forecasts eased worries about planting in the United States, with a turn to warmer and drier conditions later this week projected following blizzard warnings on Tuesday across most of the northern Plains spring wheat belt."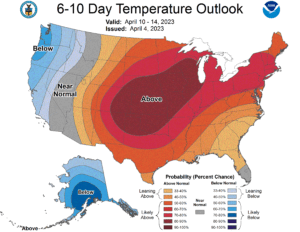 More specifically, Ian Livingston reported in today's Washington Post that, "On the north and northwest side of the storm delivering another severe thunderstorm outbreak in the central United States, it's looking and feeling more like winter than spring. From Salt Lake City to International Falls, Minn., a major winter storm is underway.