Speaking on Thursday at USDA's Agricultural Outlook Forum, USDA Chief Economist Seth Meyer provided a broad outlook for U.S. agriculture. Today's update provides an overview of key aspects of Dr. Meyer's presentation.
In his speech Thursday (transcript / slides), Dr. Meyer noted that, "One year ago, when I presented the outlook that had been constructed over the prior weeks, it was less than 24 hours since the Russian invasion of Ukraine, an event that injected tremendous uncertainty into agriculture and energy-related markets. Risk and uncertainty have always been fundamental characteristics of farming, and few other industries are as vulnerable to the vagaries of the weather or the threat of long-term effects of climate change. However, the war in Ukraine is unlike a drought as it had a sudden beginning. It also has no clear anticipated conclusion and remains a source of uncertainty in agricultural markets even as the human tragedy continues.
"The immediate effect on global food markets was a halt in supplies from one of the world's top agricultural producers and exporters. Prior to the invasion, Ukraine was the world's fourth largest exporter of corn, fifth largest exporter of wheat, and top exporter of sunflower oil and sunflower meal. While Ukraine was able to shift some export volumes to overland routes and Danube ports, it wasn't until July 22 with the signing of the Black Sea Grain Initiative that exports through Black Sea ports could resume, although the pace remains far below pre-invasion volumes. There is a critical negotiation for extension of this deal in the coming weeks."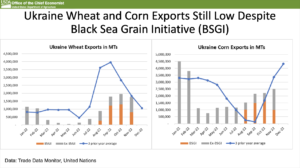 Turning to acreage prospects, Dr. Meyer explained that, "The initial expectations for 2023 planted area indicate growth in total planted area of corn, wheat, and soybeans relative to the previous year. Combined acreage for the three crops is projected at 228 million acres—a nearly 3-percent increase from 2022 when acres were constrained by unfavorable planting weather in the spring."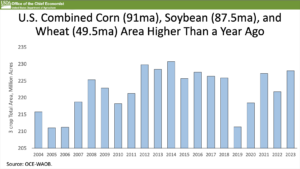 More narrowly, Reuters writer Julie Ingwersen reported on Thursday that, "Corn seedings were pegged at 91.0 million acres, up from 88.6 million in 2022, and soybean seedings at 87.5 million acres, unchanged from last year, the USDA said at its annual Agricultural Outlook Forum. Wheat plantings were forecast at 49.5 million acres, a seven-year high, up from 45.7 million in 2022."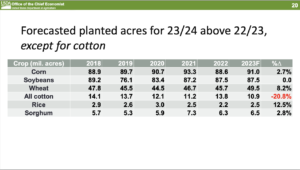 And with respect to prices, Dr. Meyer noted that, "Corn, soybean, wheat, cotton, and rice prices received by producers for the 2023/24 crops are expected to decline relative to the prior year, but nevertheless remain high relative to recent history."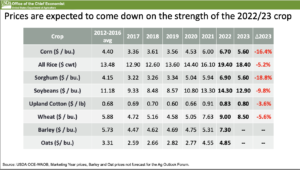 Turning to trade, Dr. Meyer explained that, "Fiscal Year (FY) 2022 ended with record exports ($196.4 billion), driven by high commodity prices and strong demand.  USDA's revised FY 2023 U.S. agricultural trade forecast, which was released today, is for lower exports ($184.5 billion) and record imports ($199.0 billion), reflecting slowing global economic growth, a relatively strong U.S. dollar, softening commodity prices, and lower export volumes for some commodities." (Note: U.S. agricultural exports set a record for calendar year 2022.)
"China remains the top destination for U.S. agricultural exports, although FY 2023 exports are projected to fall $2.4 billion from FY 2022's record of $36.4 billion, reflecting reduced sorghum, cotton, and tree nut exports," Dr. Meyer said.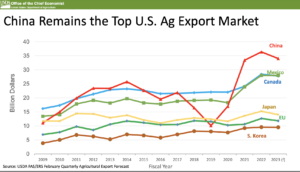 Regarding farm income, Dr. Meyer pointed out that, "Net cash farm income is expected to fall in 2023 to $150.56 billion after reaching a record high in 2022," and added that, "When adjusted for inflation, 2023 net cash farm income is forecast to decrease by $44.72 billion (22.9 percent) from its record high in 2022 but remain above the 2002-2021 average of $130.5 billion."