In prepared remarks at  a Senate Farm Bill hearing last week, Alexis Taylor, USDA's Under Secretary of Trade and Foreign Agricultural Affairs, explained that, "With a population of 1.4 billion and a middle class the size of the entire United States, the PRC [People's Republic of China] is the largest market for U.S. agricultural exports. Despite tension in 2018-2019 with China, American agriculture has proven to once again how effectively it can compete on a more level playing field. The United States continues to have strong, record high exports to the PRC of soybeans, sorghum, beef, poultry, tree nuts, and dairy.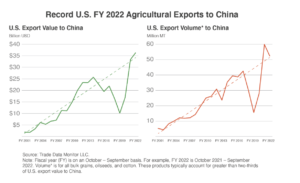 "However, we still face a variety of non-tariff barriers in that market, such as non-science based, sanitary and phytosanitary measures and onerous regulatory procedures. The U.S. Government is continuing to engage the PRC to resolve these issues and streamline import procedures.
"While it is a challenge to manage all the complexities of our relationship with the PRC, we recognize the importance of this market and will continue to represent and advocate for U.S. agriculture.  At the same time, we are aggressively diversifying our global portfolio of export markets for U.S. agricultural products to other promising markets, such as Vietnam, the Philippines, Egypt, and Kenya."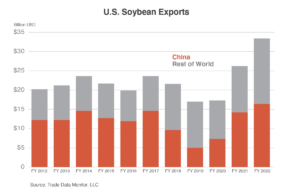 With this background in mind, Washington Post writers Cate Cadell, John Hudson and Yasmeen Abutaleb reported on the front page of Saturday's paper that, "President Biden postponed his top diplomat's first official trip to China on Friday in response to the Pentagon's discovery of an alleged Chinese spy balloon flying over the continental United States, said a U.S. official familiar with the matter.
"The decision came just hours before Secretary of State Antony Blinken was scheduled to depart for Beijing — in a dramatic indication of how seriously the Biden administration takes the incident and wants to avoid appearing soft on China.
"Blinken told China's foreign affairs chief Wang Yi that the presence of a 'surveillance balloon' in U.S. airspace amounted to an 'irresponsible act' and a 'clear violation of U.S. sovereignty,' said State Department spokesman Ned Price on Friday."
The Post article stated that, "Beijing on Friday acknowledged the balloon originated in China, but said it was a meteorological aircraft that was blown off course — claims that have been rejected by Blinken and the Pentagon."
Saturday's article pointed out that, "Danny Russel, a vice president at the Asia Society and a former U.S. diplomat, said the Biden administration's decision to postpone the trip was 'recognition that the incident would hijack the agenda, crowd out the strategic issues, and dominate the media coverage of the visit.'
"'The incident has soured the atmosphere and hardened positions and there's no guarantee the two sides can successfully resurrect the 'Bali' momentum,' he said, referring to the meeting between Biden and Chinese President Xi Jinping in November. 'On the other hand, both sides are looking for ways to stabilize the relationship and reduce risk. So ideally, this incident can serve as a teachable moment.'"
Writing on the front page of Sunday's Washington Post, llen Nakashima, Alex Horton, Dan Lamothe and Rosalind S. Helderman reported that, "A U.S. fighter jet, acting on an order from President Biden, downed a Chinese surveillance balloon off the South Carolina coast on Saturday, the Pentagon said, ending what senior administration officials contend was an audacious attempt by Beijing to collect intelligence on sensitive American military sites."
The Post article noted that, "U.S. officials spoke with their Chinese counterparts after the balloon was shot down.
"The Chinese government, which has claimed the balloon was merely collecting weather data before being blown off course, called the vessel's downing 'a clear overreaction and a serious violation of international practice' and said it 'reserves the right to make further responses if necessary.'"
Also on Sunday, Bloomberg News reported that,
Beijing's abrupt shift from expressing regret to threatening retaliation over the US's spy-balloon claims reflects the domestic imperative for Xi Jinping to show he's standing up for China against external pressure, further narrowing the window to reset ties before the US election season gets into full swing
"Instead of establishing 'guardrails' and holding high-level meetings — including possibly with President Xi — Blinken ended up postponing his trip until a date yet to be determined," the Bloomberg article said.
The Bloomberg article added that, "'This incident tells us we haven't found the floor of the relationship,' said Drew Thompson, a visiting senior research fellow at the Lee Kuan Yew School of Public Policy in Singapore. 'The relationship is not heading in a positive direction and could deteriorate further.'
"The balloon saga comes less than three months after President Joe Biden and Xi agreed to resume talks in their first face-to-face meeting as leaders in Bali, a detente that has largely held despite the US's efforts to support Taiwan's military and curb Chinese access to cutting-edge semiconductors. While few expected major breakthroughs from Blinken's scrapped visit, it was seen as an effort to preserve the status quo."