Bloomberg News reported yesterday that, "Omicron has swept through China's major cities including Beijing, Shanghai and Guangzhou, overwhelming hospitals and causing widely-reported, if officially unrecorded, fatalities.
It's now hammering smaller cities and rural areas where serious illness and death will likely be more widespread given the lack of robust medical resources and older age.
"Many provinces, including Zhejiang, Shandong and Hubei, expect the outbreak to peak later this month.
"'There's a lot of attention focused on how Beijing and Shanghai are struggling — as if they are seeing the worst — but that's really drowning out what's going on in lower-tier parts of the country,' said Chen Xi, an associate professor specializing in aging and public health at Yale University.
"'The peak in infection and severe disease is yet to hit rural areas, and a big problem awaits down the road,' Chen said, referring to the impact of Lunar New Year travel to the heartlands."
The Bloomberg article explained that, "Those regional hospitals and local clinics have had little experience with Covid and aren't getting much support. Medical supplies and emergency treatment facilities are scarce. As of end of 2020, there were only 1.62 health care workers for every thousand people in rural China, compared to 2.9 doctors and 3.3 nurses nationally, stark evidence of the huge resource gap."
"The full extent of the situation in rural China, where basic data collection and surveillance has always been more porous than in the cities, may never be known," the Bloomberg article said.
Recall that China has been "bracing for an onslaught of infections in its fragile countryside," and "has asked farmers to avoid large gatherings" as concerns about COVID in rural areas mount.
Meanwhile, Reuters News pointed to a report yesterday from the USDA's Foreign Agricultural Service (FAS) regarding soybean production in Brazil.
The FAS report stated that, "Post increased the 2022/23 forecast for soybean planted area expansion to 43.3 million hectares (ha) and soybean production to 153 million metric tons (MMT). This season sowing began optimistically, with most soybeans planted on time compared to last year. However, in the southern part of the country including Rio Grande do Sul and Parana, rains will be needed in January because if continues to be dry, the crop will be negatively impacted.
Post revised up its soybean export estimate for 2022/23 to 97 MMT, a new record.
"Post maintains the 2021/22 harvested area estimate at 40.9 million ha and the production estimate at 126.6 MMT. Post revised up the 2022/23 crush forecast to 51.5 MMT based on available supplies and increased demand for soybean products. Crush demand will ultimately be impacted by the new administration's biofuel mandate policy, which is expected to be decided by March 2023."
Also yesterday, Reuters writer Pavel Polityuk reported that, "Ukraine has exported almost 23.6 million tonnes of grain so far in the 2022/23 season, down from the 33.5 million tonnes exported by the same stage of the previous season, agriculture ministry data showed on Monday.
"The volume included around 8.6 million tonnes of wheat, 13.3 million tonnes of corn and about 1.7 million tonnes of barley."
In a separate Reuters article yesterday, Polityuk reported that, "Unusually warm weather for December and early January could have a negative impact on Ukrainian winter wheat and rapeseed crops, which may lead to lower yields, APK-Inform consultancy said on Monday, citing data from a crop survey."
Elsewhere, Dow Jones writer Kirk Maltais reported yesterday that, "Russia is forecast to export a record-high 21.3 million metric tons of wheat in the first half of 2023, according to a new outlook from SovEcon – with total exports for the 2022/23 marketing year predicted to hit a record 44.1 million tons. 'Active shipments, backed by a bumper Russia's crop, are likely to put pressure on global prices,' said the firm."
And Reuters columnist Karen Braun indicated today that, "Wheat exporters in the United States, formerly the world's breadbasket, ended 2022 on the lowest note in over four decades as short supplies and cheaper overseas competition continued pushing U.S. wheat aside.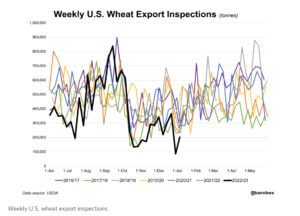 "The paltry shipment volumes are not necessarily disappointing considering expectations, and the new year may bring some better luck to exporters as U.S. supplies may build in 2023."
Also today, Reuters writers Rajendra Jadhav and Mayank Bhardwaj that, "India's wheat production is set to jump to a record after all-time high prices prompted farmers to expand planting areas with high-yielding varieties and good weather conditions, scientists and traders told Reuters."
Also regarding India, Bloomberg's Pratik Parija reported yesterday that, "India, the world's biggest rice exporter, is likely to lift restrictions on grain shipments in a move that would mark a further easing of a global wave of food protectionism after Russia's invasion of Ukraine.
"Authorities are actively considering removing curbs on some rice exports as domestic prices are stable, according to a person familiar with the matter. Government stockpiles are adequate to meet the needs of welfare programs, said the person, who asked not to be identified as the information is private."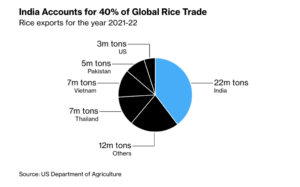 The Bloomberg article stated that, "India imposed a 20% duty on exports of white and brown rice in September, and banned broken rice sales abroad. The curbs, which apply to about 60% of Indian rice exports, came on top of restrictions on wheat and sugar sales."