Bloomberg writer Megan Durisin reported today that, "After a year marred by disruptions from the war in Ukraine and extreme weather, global food prices ended 2022 roughly where they started.
"A United Nations' index of food-commodity costs soared to a record in March, shortly after Russia's invasion of Ukraine crippled vital flows of grain and vegetable oils from the breadbasket nation. Prices then slid as a Black Sea crop-export deal and good harvests in other growers buffered supplies, before steadying toward year-end."
Durisin explained that, "The gauge — which tracks five major staples — fell 1.9% in December, the UN's Food and Agriculture Organization said in a report. That took losses for the year to 1%, the first annual decline since 2018.
"Prices still remain well above their 10-year average, which has added to a global cost-of-living crunch and exacerbated a hunger crisis that the UN has aimed to quash by the end of the decade. For 2022 as a whole, the index averaged 14% higher than the prior year."
Also today, Reuters writer Sybille De La Hamaide reported that, "In December the [FAO] benchmark index fell for the ninth consecutive month to 132.4 points, compared with a revised 135.00 points for November."
The Reuters article noted that, "Still over the whole of 2022, four of the FAO's five food sub-indexes – cereals, meat, dairy and vegetable oils – had reached record highs, while the fifth one, sugar, was at a 10-year high.
"The FAO Cereal Price Index index rose 17.9% in 2022 due to factors including significant market disruptions, higher energy and input costs, adverse weather and continued strong global food demand, the FAO said."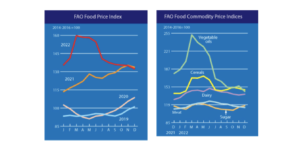 And Dow Jones writer Yusuf Khan reported today that, "December's fall was contributed to in part by falling vegetable-oil prices, with the U.N. body's index down 6.7% from November to reach its lowest level since February 2021. Subdued demand for palm, sunflower and rapeseed oils helped drag prices down, as did stronger production of soy oil from South America."
Elsewhere, Bloomberg News reported earlier this week that,
China's abandonment of Covid Zero is stirring hopes that a demand recovery in the world's biggest commodities importer will boost prices once the country gets over the current virus wave.
The Bloomberg article stated that, "In agricultural commodities, the hope is that Chinese spending on food and restaurants will come back quickly from the virus-induced slump. A strong pick-up could have a 'momentous' impact on the country's import flows, researcher Gro Intelligence said in a note.
"Chinese soybean imports could jump to a record of more than 100 million tons this year, up from about 89 to 90 million tons in 2022, according to the most bullish forecasts in a Bloomberg survey. China buys almost two-thirds of the soybeans traded internationally."
Recall that some observers see an "uneven and painful" recovery for China.
Elsewhere, Bloomberg News reported today that, "The US Department of Agriculture's monthly WASDE crop report in January is one of the agency's biggest data drops of the year. The Jan. 12 report will offer the first look at how much wheat was planted last autumn and how much grain and soy was on hand as of Dec. 1. Traders will be bracing for surprises, with global grain supplies still tight due to the war in Europe and patches of drought.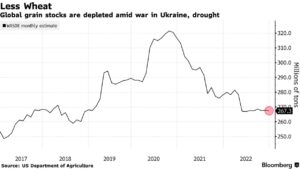 "Agricultural powerhouse Brazil will also release its latest estimates for grains and oilseed production on Jan. 12, giving the market insights on the outlook for the world's top soybean producer following a slow seasonal start. Still, Brazil's soybean and corn production is expected to be at an all-time high despite drought and heat affecting yields in the nation's far south. Dryness in South America has been a bullish factor for soybean contracts and updates on the Brazilian crop may set the tone for trading early this year."
And yesterday, Bloomberg's Tracy Alloway and Joe Weisenthal reported that, "Mississippi barge prices that soared during an historic drought in the Midwest have normalized while even oil has fallen from its all-time high."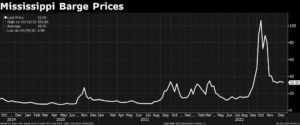 Alloway and Weisenthal added that, "Meatpacking margins also reached a record in the years after the Covid-19 outbreak as more people prepared meals at home and slaughterhouses struggled to staff up.
"Now they're also back to pre-pandemic levels, with many of the world's biggest meatpackers signaling an end to these lofty profits."