Earlier this week, Reuters writers Dominique Patton, Roxanne Liu and Bernard Orr reported that, "President Xi Jinping wants China to accelerate efforts to achieve self-reliance in agricultural technology, identifying seed development and core equipment among areas to focus on, state media reported.
"The central leadership had said in 2020 that the country's seed industry was a weak link in the food chain and needed to make better use of science and technology to achieve a turnaround.
'It is necessary to keep an eye on the frontiers of the world's agricultural science and technology,' the official Xinhua news agency quoted Xi as saying at the central rural work conference held in Beijing over Friday and Saturday.
The Reuters article added that, "The President urged China's agricultural sector to 'vigourously improve' its science and technology, with more efficient innovation."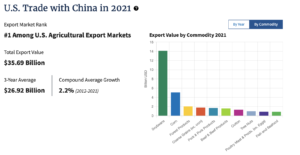 Meanwhile, Reuters writer Ana Mano reported last week that, "China is expected to end the year with historically low soymeal carryover stocks, which should increase dependence on imported soybeans in 2023, Victor Martins, senior risk manager at HedgePoint Global Markets, said Thursday.
"Brazilian soybeans, which are processed in China to make livestock feed, are currently more attractive than U.S. soybeans for February shipments, Martins said in an interview.
"The news is positive for Brazilian farmers, some of whom may start harvesting their 2023 beans in as little as a week."
And as the Chinese government continues to pare back Covid restrictions, Financial Times writer Thomas Hale reported on Monday that, "China will remove quarantine requirements for inbound travellers from January 8 as the country dismantles the remnants of a zero-Covid regime that closed it off from the rest of the world for almost three years.
"The National Health Commission on Monday unveiled the move as part of a wider announcement that downgraded the country's management of Covid-19, a virus which is currently sweeping the nation, and definitively abandoned a host of other preventive measures."
Also Monday, Wall Street Journal writer Jonathan Cheng reported that, "Visits to three major hospitals in Beijing by the Journal on Monday showed the capital's healthcare system now swamped with an influx of patients following the government's about-face on Covid-19 controls, which has left many citizens, especially the elderly, scrambling to find treatment."
And Bloomberg News reported on Monday that, "Since late November, when discontent with harsh Covid Zero rules boiled over and sparked protests in cities across the country, officials have rapidly dismantled many of their harshest pandemic measures. The speed of change has left health experts puzzled and residents scrambling to adjust to a new way of life that's seen infections explode and made the border curbs — put in place to keep the virus out of China — increasingly irrelevant."
"China's abrupt U-turn on Covid Zero has upended economists' and investors' expectations, complicating estimates for how its policies will affect economic growth," the Bloomberg article said.