Tony Romm reported on the front page of today's Washington Post that, "The Senate on Thursday adopted a sprawling, roughly $1.7 trillion bill that would fund the government through most of 2023, as Democrats and Republicans resolved a last-minute standoff over immigration and voted to avert a shutdown in the final days of the year.
"The bipartisan 68-29 vote teed up the measure for debate in the House, which plans to act before the deadline on Friday to approve a package that boosts domestic and defense spending, finances President Biden's economic agenda and provisions a raft of new emergency aid, including to Ukraine."
The Post article explained that, "The must-pass nature of the bill — the final major piece of legislation before Congress resets in the new year — also offered a window for lawmakers to advance other long-stalled priorities."
DTN Ag Policy Editor Chris Clayton reported yesterday that,
Among roughly $27 billion in spending for natural disasters, the bill includes $3.74 billion to USDA to help producers who suffered through agricultural disasters in 2022.
"The bill provides $25.5 billion in discretionary funds for USDA and related agencies, such as FDA. Another $10 billion will go to EPA.
"The disaster aid provisions will help farmers who suffered losses for crops, dairy products and on-farm stored commodities, as well as crops prevented from planting in 2022. Up to $494.5 million of the funds are set aside for livestock producers who were hit with losses."
Clayton noted that, "Rice producers also will receive a one-time payment with funding of $250 million following higher fertilizer prices and relatively flat commodity prices that affected rice growers more than other commodities. Sen. John Boozman, R-Ark., helped include the language, citing that as many as two-thirds of rice producers were projected to lose money in 2022.
"Another $100 million will go to make payments to cotton merchandisers who faced financial losses because of supply chain problems during the pandemic.
"The bill also includes language allowing USDA to set standards and verification rules for agricultural carbon market programs. The language adopts provisions from the Growing Climate Solutions Act for USDA to create a new program and form an advisory committee, as well as boost technical assistance for farmers interested in carbon markets."
The DTN article also indicated that, "Agricultural immigration reform also died when Senate leaders opted not to allow a vote on Sen. Michael Bennet, D-Colo., bill, the Affordable and Secure Food Act. The bill failed to get a Senate vote despite two years of efforts from agricultural groups to overhaul the H-2A guestworker program to allow year-round workers and make it easier for those workers to get approved for visas. The bill also would have legalized current farm workers in the country illegally."
Regarding nutrition, Clayton stated that, "For food aid, the Supplemental Nutrition Assistance Program (SNAP) will receive $153 billion, a record funding level for the program. The bill bumps up benefit levels for recipients.
"The bill also includes provisions helping low-income families buy food for their school children during the summer with benefits of $40 per child, per month. The provision is expected to help as many as 29 million children."
Meanwhile, Bloomberg writers Brian K Sullivan, Jordan Fabian, and Brian Wingfield reported yesterday that, "A monstrous, once-in-a-decade winter storm is battering the US, bringing with it heavy snow, searing winds and dangerously low temperatures, while causing mayhem for travelers across the country at the peak of the holiday season."
Farmers are bracing for record cold that could cause machinery to break down, impact winter wheat growth and freeze livestock at a time of already historic food inflation.
Reuters writers Tom Polansek and P.j. Huffstutter reported yesterday that, "Tyson Foods Inc. said it suspended and reduced operations at some U.S. meat facilities on Thursday due to a massive winter storm, while farmers increased checks on livestock facing harsh winds and cold.
"The extreme weather presented a temporary challenge to food production after consumers grappled this year with soaring inflation, supply-chain shortages and drought that seared farmland in the western United States."
The Reuters article noted that, "Ranchers were constantly checking their cattle to make sure they were not in distress and had access to water that was not frozen, said Kansas Farm Bureau spokesman Greg Doering.
"'They will make it through,' Doering said about cattle. 'This is an extreme event but it's going to be short lived.'"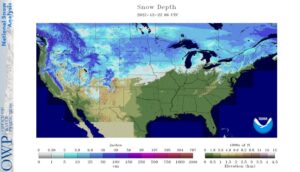 Polansek and Huffstutter added that, "Wheat farmers in the central Plains worried that frigid temperatures may kill or damage dormant crops that lack a protective layer of snow."
Reuters writer Christopher Walljasper reported yesterday that, "Wheat traders are watching forecasts for temperatures well below freezing across the U.S. Heartland in the coming days, which may threaten winter crops not insulated by snow cover."
And Reuters writer Steve Gorman reported today that, "Heading into the Christmas holiday weekend, the looming storm was forecast to develop into a 'bomb cyclone,' unleashing heavy, blinding snow from the northern Plains and Great Lakes region to the upper Mississippi Valley and western New York."
In a separate DTN article yesterday, Chris Clayton reported that, "Nearly two years in office, the Biden administration now has an undersecretary for Trade and Foreign Agricultural Affairs at USDA.
"Iowa native Alexis Taylor was confirmed by a voice vote on Wednesday afternoon, drawing praise from industry groups. Taylor was nominated for the post in mid-May, and the Senate Agriculture Committee forwarded her nomination to the full Senate at the end of September."
Also yesterday, a news release from the Senate Ag Committee stated that, "U.S. Senators Debbie Stabenow (D-Mich.), Chairwoman of the U.S. Senate Committee on Agriculture, Nutrition, and Forestry, and John Boozman (R-Ark.), the Committee's Ranking Member, today announced that the U.S. Senate confirmed Dr. Jose Emilio Esteban, to serve as Under Secretary for Food Safety at the U.S. Department of Agriculture and Doug McKalip, to serve as Chief Agricultural Negotiator in the Office of the U.S. Trade Representative."