Sugarcane aphid, a new invasive pest of sorghum, was first reported today from Cumberland, Hoke and Robeson counties thanks to the sharp eyes and cooperation of industry agronomists, growers, and NDCA and NCSU personnel.  These counties are contiguous and very near the farthest north point where this insect has been found in South Carolina.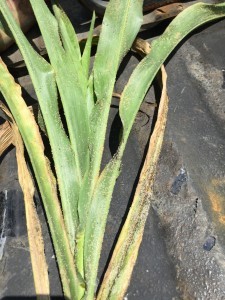 Pre-boot sorghum injured by sugarcane aphid. Photo courtesy of Jeremy Barnes.
The sugarcane aphid recently made a host switch to sorghum.  This new behavior has caught everyone off guard and has sorghum growers reeling.  Why is this insect so bad?  Before sorghum heads it can kill or stunt plants, prevent heading, or reduce head size.  After sorghum heads up until harvest, it can prevent equipment from harvesting by plugging it with honeydew (from the aphids).
This insect breeds extremely rapidly.  Once you have the insect, it can blow up in a few days.  Weekly sampling intervals need to be shortened for proper management.  Finally, it is very difficult to manage with registered insecticides.  There are three effective registered insecticides in North Carolina:
1) Lorsban, which has a 60 day pre-harvest interval restriction,
2) Sivanto (21 day pre-harvest interval restriction) and
3) Transform (14 day pre-harvest interval restriction), which is registered under a Section 18 emergency exemption (see article here).
My recommendation is to begin spraying with Sivanto or Transform and to rotate chemistries as needed.  Thresholds are here.
Sugarcane aphids are yellow and can be distinguished from other aphids in sorghum by the presence of black tailpipes on the tail (cornicles) and black feet below their yellow legs.  These aphids will often infest entire fields, which is rare for our native aphids and are especially a problem behind sprays for other insects that might kill beneficial insects.  Please report any aphids fitting this description to NCCE as soon as possible.