The sustained cold weather that overtook much of the United States during January and February increased demand for space heating fuels, disrupted crude oil and natural gas production as well as refinery, rail, and pipeline operations, and challenged the ability of energy infrastructure to deliver fuel.
Cold temperatures caused space heating demand for distillate, propane, and natural gas to increase significantly. Limited gas supplies and pipeline capacity available to serve parts of the Northeast, particularly New England, were used to meet space heating needs for which no alternative fuel options were available. As natural gas supply to power plants was curtailed and as prices for natural gas spiked higher (Figure 1), electricity generators increased their use of residual fuel and distillate fuel to replace natural gas for power generation.
U.S. residual fuel consumption, which averaged 220,000 barrels per day (bbl/d) during December and early January, more than doubled to 471,000 bbl/d for the week ending January 17. U.S. distillate consumption also rose sharply, to 4.5 million bbl/d for the week ending January 24, an increase of 22% from the same week last year and a 50% increase from the week ending January 3. Since January 24, as temperatures moderated, consumption declined and averaged 3.7 million bbl/d over the three-week period ending February 14, slightly below the same period in 2013.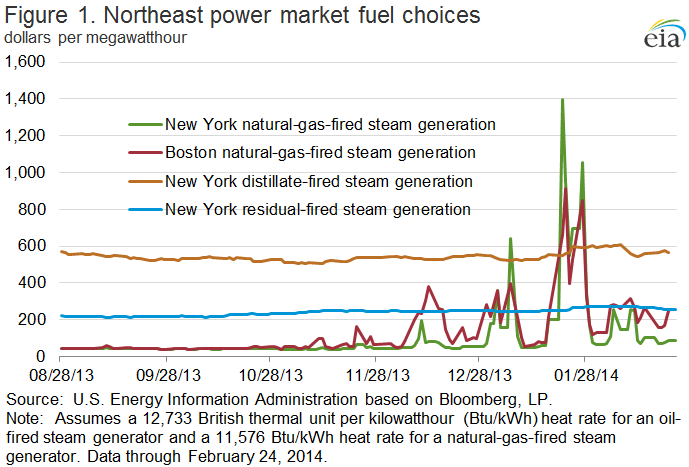 Since the start of the year, distillate inventories in the Northeast (PADDs 1A and 1B) have fallen 6.4 million barrels, leaving stocks at 18.8 million barrels on February 14, 7.6 million barrels below inventory levels for the same week in 2013. However, imports of distillate fuel into the Northeast have been noticeably higher in recent weeks. Trade press reports had estimated that 6.6 million barrels of distillate from Russia, India, and Europe would reach New York Harbor by the end of February.
In the Midwest, where propane inventories were already low at the start of the heating season following a large, wet corn harvest, the frigid weather depleted inventories and caused extreme tightness in propane supplies. With the easing of winter cold this past week and emergency measures to move additional propane supply into the Midwest, spiking propane prices at Conway, Kansas, the Midwest storage and distribution hub for propane, have declined. Conway prices returned to a more typical relationship to propane prices at Mont Belvieu, Texas, the major propane storage and distribution hub in the U.S. Gulf Coast (Figure 2).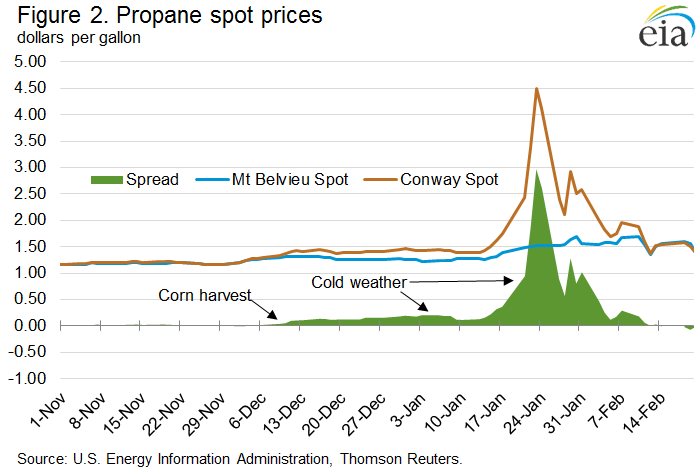 The extreme and sustained cold weather also disrupted crude oil and natural gas production, refinery, rail, and pipeline operations, and gasoline and distillate production and supply. The cold weather in January resulted in a slowdown in crude oil and natural gas exploration and production activity; EIA's February Short-Term Energy Outlook (STEO) expects that the reduced well-completion activity because of harsh weather conditions caused oil production to slow. Very cold temperatures require the use of additional heating equipment at drilling sites, which can slow the pace of drilling and completing new wells. In particular, large volumes of water used for hydraulic fracturing must be heated to prevent freezing.
Heavy snow has an even greater effect on well-completion activity because poor road conditions restrict the movement of equipment. According to a report issued by the North Dakota Department of Mineral Resources on February 14, the state's oil production fell by 53,000 bbl/d in December, the largest monthly decline ever.
Winter weather caused refineries to reduce runs and in some cases suspend operations because of power outages and the effect of extremely low temperatures on unit operations. In the Midwest, where refinery utilization rates had been running above 94%, rates dipped to 87% for the week ending January 17, but returned to 94% the following week (Figure 3). East Coast weekly refinery utilization rates declined from 85% at the start of January to a low of 70%, also for the week ending January 17, a decline that is also partially the result of planned refinery maintenance, before recovering to 77% by the end of the month (Figure 4). While the Gulf Coast was also affected by unusually cold winter conditions, the effect on refinery operations was less significant compared to PADDs 1 and 2.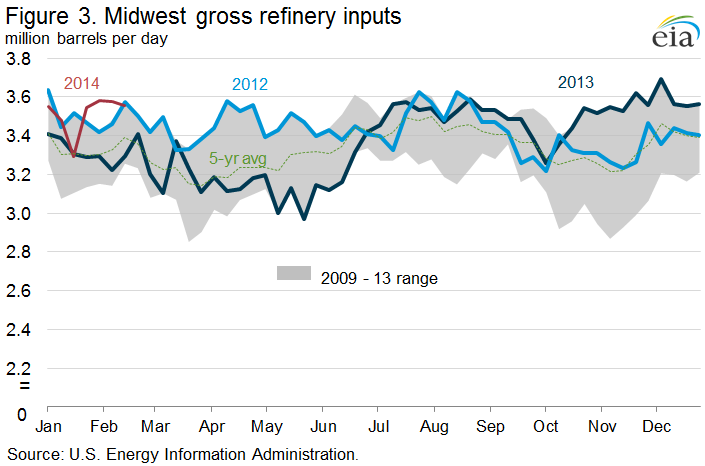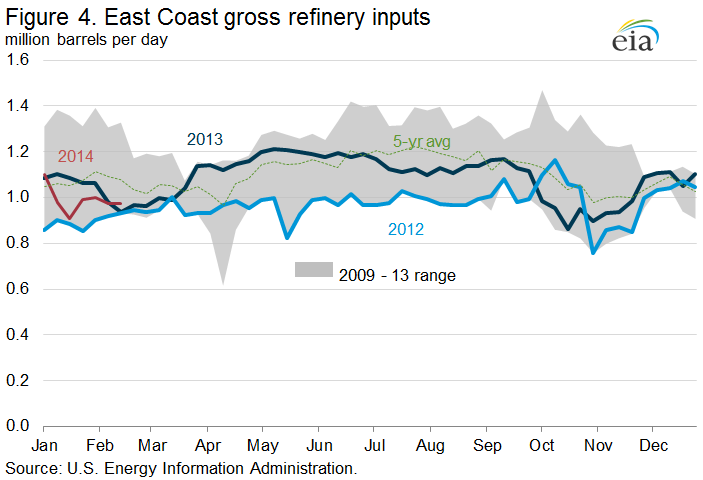 Refineries in the Northeast also faced secondary effects from the cold weather, including those associated with significant increases in the cost of natural gas. On January 22, natural gas spot prices in the Transco Zone 6 – non-New York Northeast region reached $124 per million British thermal units (MMBtu), up from $11/MMBtu one day earlier. Prices had been $4/MMBtu only one week earlier. As natural gas prices increased, refineries switched fuels or reduced operating rates. Natural gas prices have declined and as of February 21 were $8.66/MMBtu.
The extreme weather also has impeded transportation networks. In the upper Midwest, the cold and snow caused significant operational challenges for railroads, and in New York Harbor, the snow, ice and cold delayed vessel unloading. Snow and ice also disrupted tanker truck traffic, slowing propane and petroleum product deliveries. In the Midwest, where temperatures were well below zero, ethanol pipelines froze. Weather-related power outages disrupted both crude and product pipelines in the Midwest and East Coast. Along the U.S. Gulf Coast, winter storms and fog temporarily closed the 52-mile Houston Ship Channel, which connects many Houston area refineries and petroleum product terminals to the Gulf of Mexico.
Although temperatures throughout much of the United States moderated last week, the National Oceanic and Atmospheric Administration (NOAA) outlook for heating degree days for the current week shows a return to much colder than normal conditions in the Upper Midwest.
NOAA is projecting cold weather over a broad portion of the eastern United States during the first week of March. As a result, the possibility remains that cold temperatures could continue to negatively affect petroleum markets in the coming weeks.